Beis Hamedrash Nishmas Yisroel
ovos uvonim! | CONTINUES this motz'sh! (p'mishpatim at 7.40pm)
torah & toddlers | continues monday morning! (27-feb)
chumash rashi SHIUR | continues wednesday evening! (22-feb)
Click here to access the full Archive for the shiur. Links will not be posted on the home page.
sfas emes SHIUR | CONTINUES wednesday EVENING! (22-FEB)
omud yomi shiur | continues tomorrow morning! (21-feb)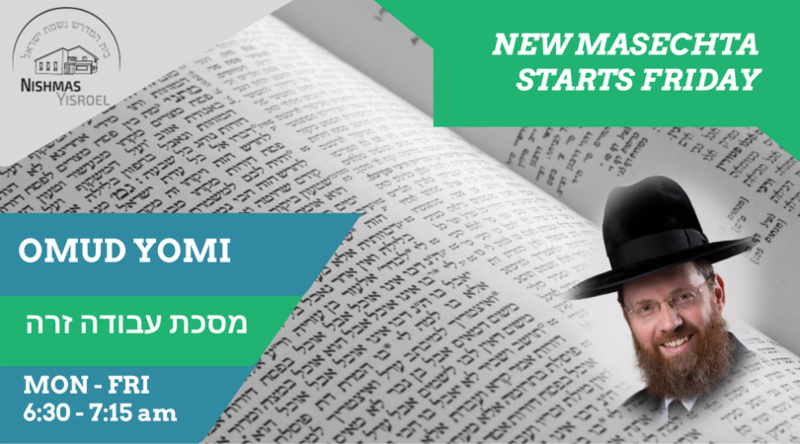 Click here to access the full Archive for the shiur. Links will not be posted on the home page.
mishnah brurah yomi | continues this evening! (20-feb)
daf yomi b'halocho (DirsHU) index

משנה ברורה חלק ב
1) 12/02/17 | Siman 199:6-10a Download

Here**
2) 13/02/17 | Siman 199:10b-200:1 Download Here
3) 14/02/17 | Siman 200:2 Download

Here**
4) 15/02/17 | Siman --:--

Coming Soon
5) 16/02/17 | Siman --:--

Coming Soon
**The מגיד שיעור was Yossi Klein
---
7 January | We are no longer able to publish the Shiurim by uploading the file to the site. From now on, each link will direct you to a Dropbox file to subsequently stream or download to your system. (Your system must support .m4a files - iPhones are fine)
This should not pose any problems to most users. If you're having storage issues then stream the shiur and do not download it!
Alternatively, Smartphone Users can download the free Dropbox App (Available on iOS and Android) which should play them for you on the App itself upon clicking the links.
Apologies for the inconvenience.
(The most recent week of שיעורים will be posted here whereas a full archive from the beginning of the Cheilek will be available on the "Dirshu Archive" Page)
Visitors Since 27th April 2015

business directory
Click here to access see our extensive BHNY Business Directory. Free Fridge Magnets are available to collect from the Shul now.
hacHnosas sefer torah | VIDEO HIGHLIGHTS
EXCLUSIVE FRIED CONCERT | VIDEO HIGHLIGHTS
whatsapp groups
We encourage our members to join the Mens or Ladies WhatsApp Groups to keep up to date with Shul Events and Announcements.
Please send a message to mail@bhny.co.uk to request membership.
Hachnosas Orchim (Bal Shem Tov)
Following the Rov's Drosho at Shalosh Seudos (P' Behalosecho 5774), a new BHNY initiative has been started whereby a rota for Shabbos meals will be maintained for Hachnosas Orchim.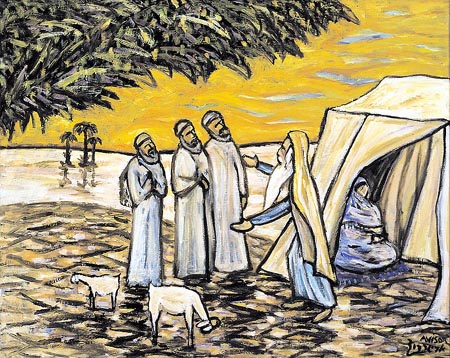 If you are able to host a meal in the near future (or know of anyone needing a meal), please contact Mrs Dalia Nessim on 0798 923 7572
join the mailing list here!
leil shishi @ nishmas Yisroel
Thursday Nights
The next ליל שישי פרשה שיעור (P'TBA) will be given by:
TBA שליט"א
Followed by Hot Refreshments and a דבר תורה from TBA נ"י
Visit www.torahway.org.uk to download previous שיעורים and click here to find and download Rabbi Tugendhaft's ten minute Hilchos Shabbos שיעורים given before each guest speaker.
If you would like to sponsor Leil Shishi on a specific week please send a message to mail@bhny.co.uk
See you on Thursday!

9.35-9.45: Hilchos Shabbos (Rabbi Tugendhaft שליט"א)
9.45-10.15: Parasha Shiur (Guest Speaker)
10.15: מעריב (followed by Cholent, Kugel & Dvar Torah)
Upcoming yohrtzeits
24 Shevat - R' Shaul Halevi Mortira (1660), Av Beis Din of Amsterdam, author of Givat Shaul
24 Shevat - R' Avrohom Yechiel Michel of Halberstadt (1730) ben R' Uziel, author of Nezer HaKodesh

25 Shevat - R' Yisroel ben R' Zev Volf Lipkin (1883) best known as R' Yisroel Salanter, founder of the Mussar movement
25 Shevat - R' Mordechai Pogramansky, the Iluy of Telz (1950)

26 Shevat - R' Dovid ben R' Shmuel Halevi (1667) the Taz, son-in-law of the Bach, Reb Yoel Sirkis
26 Shevat - R' Shaul ben R' Elazar Brach of Kashau (1940), author of Shaul Sha'al
26 Shevat - R' Yaakov ben R' Moshe Yehuda Leib Landau (1986), Rov of Bnei Brak
26 Shevat - R' Ephraim ben R' Benzion Borodiansky (1990) of Yeshiva Kol Torah, author of Binyan Ephraim

27 Shevat - R' Mordechai Yosef Elazar ben R' Gershon Henoch Leiner of Radzin (1929) author of Tiferes Yosef
27 Shevat - R' Alexander Sender ben R' Ephraim Sender Shor (1737), author of Tevuos Shor
27 Shevat - R' Elazar Rokeach (1837) , author of Responsa Shemen Rokeach, fought against reform together with the Chasam Sofer, R' Akiva Eiger and R' Chaim Benet
27 Shevat - R' Yosef Zundel Hutner, Rov of Eishinshok, author of Bikurei Yosef (1919)
27 Shevat - R' Mordechai ben R' Simcha Shmuel Shulman (1982), son-in-law of R' Yitzchak Isaac Sher and Rosh Yeshiva of Slabodka in Bnei Brak
27 Shevat - Reb Menachem Nochum ben Ahron Twersky (1871) was named after his great-grandfather, the Meor Einayim. He passed away about a year before his father on Shabbos Shkalim/ Mevarchim - Parshas Mishpatim. His father made reference to this by saying: הִנֵּה אָנֹכִי שֹׁלֵחַ מַלְאָכִי לְפָנֶיךָ "Behold I send my Malach before you". This is a slight change from a posuk in Mishpatim

28 Shevat - R' Menachem Nochum ben R' Yochanon of Rachmastrivka (1937) (his cousin, who had the same name, had his yartzeit yesterday) passed away in Eretz Yisroel
28 Shevat - R' Mordechai ben R' Moshe Gedalia of Zvhil (1979), descendant of the Magid of Zlochov.

29 Shevat - R' Chananya Yom Tov (Lipa) ben R' Yekusiel Yehuda Teitelbaum, the Kedushas Yom Tov. His sons were the Satmar Rebbe, R' Yoel, and the Atzei Chaim, R' Chaim Tzvi.
29 Shevat - R' Nosson Tzvi ben R' Moshe Finkel (1927), the "Alter of Slabodka"
29 Shevat - R' Yitzchak Yerucham ben R' Moshe Yehoshua Yehudah Leib Diskin (1925)
30 Shevat - R' Menachem Mendel ben R' Boruch Bendet of Shklov (1827), one of the most famous talmidim of the Gra. Was known as an expert in Kabbala. Made aliyah to Eretz Yisroel in 1808.
30 Shevat -Rav Moshe of Zaloshin, author of Mishpat Tzedek, Tikkun Shabbos, and Geulas Yisrael (1788-1831). In 1815, he was appointed leader of the chassidic community in Zaloshin.
30 Shevat -Rav Shmuel Abba of Horedenka (1895). Son of Rav Baruch of Vishnitz, the Imrei Baruch
30 Shevat -Rav Yerucham Fishel Perla (1846-1934). Born in Warsaw in 1846 and studied under R' Yehoshua Leib Diskin in Lomza and under R' Yosef Dov Halevi Soloveitchik. While he was still young, he was offered prestigious rabbinates, including in Lublin and Krakow, but he turned them down so he could continue his studies. He is known for his encyclopedic commentary to the Sefer Ha'mitzvot by R' Saadiah Gaon.
Tue, 21 February 2017 25 Shevat 5777