Beis Hamedrash Nishmas Yisroel
property week! | continues tonight! (19-jan)
U
ovos uvonim! | CONTINUES this motz'sh! (p'shemos at 6.40pm)
new! torah & toddlers | continues on monday! (23-JAN)
eitan katz 2016 | highlights (gallery coming soon!)
Video Credit | David Barry / MazelTov Video
chumash rashi SHIUR | continues tuesday evening! (24-jan)
Click here to access the full Archive for the shiur. Links will not be posted on the home page.
omud yomi shiur | continues this morning! (19-jan)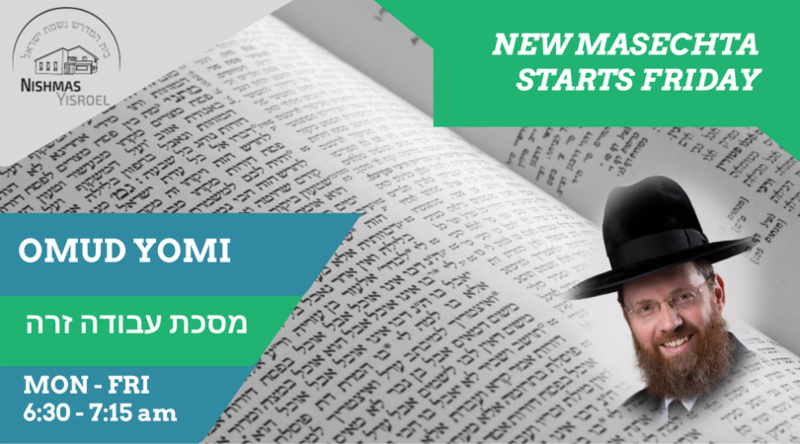 Click here to access the full Archive for the shiur. Links will not be posted on the home page.
mishnah brurah yomi | continues this evening! (19-JAN)
daf yomi b'halocho (DirsHU) index

משנה ברורה חלק א
1) 15/01/17 | Siman 185:5-186:2
Download
Here
2) 16/01/17 | Siman --:--

Coming Soon
3) 17/01/17 | Siman --:--

Coming Soon
4) 18/01/17 | Siman --:--

Coming Soon
5) 19/01/17 | Siman --:--

Coming Soon
---
7 January | We are no longer able to publish the Shiurim by uploading the file to the site. From now on, each link will direct you to a Dropbox file to subsequently stream or download to your system. (Your system must support .m4a files - iPhones are fine)
This should not pose any problems to most users. If you're having storage issues then stream the shiur and do not download it!
Alternatively, Smartphone Users can download the free Dropbox App (Available on iOS and Android) which should play them for you on the App itself upon clicking the links.
Apologies for the inconvenience.
(The most recent week of שיעורים will be posted here whereas a full archive from the beginning of the Cheilek will be available on the "Dirshu Archive" Page)
Visitors Since 27th April 2015

business directory
Click here to access see our extensive BHNY Business Directory. Free Fridge Magnets are available to collect from the Shul now.
hacHnosas sefer torah | VIDEO HIGHLIGHTS
EXCLUSIVE FRIED CONCERT | VIDEO HIGHLIGHTS
whatsapp groups
We encourage our members to join the Mens or Ladies WhatsApp Groups to keep up to date with Shul Events and Announcements.
Please send a message to mail@bhny.co.uk to request membership.
Hachnosas Orchim (Bal Shem Tov)
Following the Rov's Drosho at Shalosh Seudos (P' Behalosecho 5774), a new BHNY initiative has been started whereby a rota for Shabbos meals will be maintained for Hachnosas Orchim.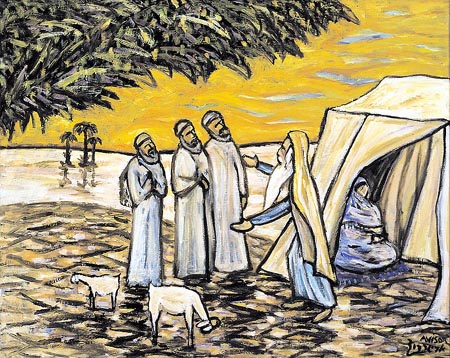 If you are able to host a meal in the near future (or know of anyone needing a meal), please contact Mrs Dalia Nessim on 0798 923 7572
join the mailing list here!
leil shishi @ nishmas Yisroel
Thursday Nights
The next ליל שישי פרשה שיעור (P'TBA) will be given by:
TBA שליט"א
Followed by Hot Refreshments and a דבר תורה from TBA נ"י
Visit www.torahway.org.uk to download previous שיעורים and click here to find and download Rabbi Tugendhaft's ten minute Hilchos Shabbos שיעורים given before each guest speaker.
If you would like to sponsor Leil Shishi on a specific week please send a message to mail@bhny.co.uk
See you on Thursday!

9.35-9.45: Hilchos Shabbos (Rabbi Tugendhaft שליט"א)
9.45-10.15: Parasha Shiur (Guest Speaker)
10.15: מעריב (followed by Cholent, Kugel & Dvar Torah)
Upcoming yohrtzeits
21 Teves - R' Yisroel Dov Ber ben R' Yosef of Vilednik (1850), author of Shearis Yisroel, great tzadik and miracle worker, primary talimid of R' Mottel of Chernobyl, his kever in Vilendnik, Ukraine gets many visitors.
21 Teves - Rav Matzliach Mazuz of Djerba HY"D, author of Ish Matzliach (1971)
21 Teves - R' Yitzchok ben R' Abba Abuchatzeira (1991) Great-grandson of R' Yaakov Abuchatzeira


22 Teves - R' Sholom ben R' Mordechai Yosef Moshe Moskovitz, the Shotzer Rebbe of London. He promised to help anyone who comes to his kever and lights 3 candles(1958)
22 Teves - R' Shmuel Heller, Rav of Tzefas (1884)
22 Teves - R' Yehuda Leib ben R' Shlomo Eiger of Lublin (1888) grandsonof R' Akiva Eiger, talmid of the Kotzker and Izhbitza, author of Toras Emes and Imrei Emes
22 Teves - R' Avrohom Elchonon ben R' Dovid Shlomo Spector (1973) descendant of the Chozeh. Breslover Tzadik who knew the whole Shas, Medrash, Zohar and more by heart.
23 Teves - R' Refoel Yitzchok Zerachia Azulai (1765) father of the Chida
23 Teves - R' Mordechai Gifter (2001), Rosh Yeshiva of Telz


24 Teves - R' Naftali ben R' Yitzchok Hakohen Katz (1719, some have the date as 26 Teves), author of Semichas Chachomim and Rov of Ostraha and Frankfurt-on-Main. He is buried in Istanbul, where he died, en route to Eretz Yisroel. He was a descendant of the Maharal of Prague. R' Nachman of Breslov was one of his descendants
24 Teves - R' Shneur Zalman ben R' Boruch of Liadi (1813), first Lubavitcher Rebbe, author of the Tanya and Shulchan Aruch Harav
24 Teves - R' Shmuel Borenstein of Sochatchov (1926), the Shem MiShmuel son of ben R' Avrohom, the Avnei Nezer
24 Teves - R' Avraham Shmuel Binyamin ben R' MosheSofer, author of the Teshuvos Divrei Sofer (1948) descendant of the Chasam Sofer
24 Teves - R' Moshe Mordechai ben R' Shimon Noson Nota Biderman of Lelov (1987) Great tzadik from a family that was in Yerushalayim since 1850.
24 Teves - R' Yosef of Yampola (1812 some have the date as 20 Shvat) ben R' Yechiel Mechel of Zlotchov
24 Teves - R' Meir ben R' Yehuda Leib Greenwald (1852) Maharam Ash


25 Teves - R' Moshe Tzvi ben R' Shimon Shlomo Giterman of Savran (1837) was a talmid of R' Levi Yitzchok of Berditchev and R' Boruch of Mezibuz. He was a fierce opponent of R' Noson of Breslov, though interestingly his son, R' Shimon Shlomo was on good terms with the Breslover Chassidim.
25 Teves - Rav Eliyahu Eliezer ben R' Reuven Dov Dessler (1954), author of Michtav M'Eliyahu and Mashgiach in Gateshead and Ponovezh
25 Teves - R' Moshe Tikochinsky, Mashgiach of Slabodka
26 Teves - R' Avrohom Chaim of Zlotchov (1816) ben Gedalya Moshe, son-in-law of the "Baal Haflah". He was a talmid of the Magids of Mezritch and Zlotchov and the Rebbe Reb Shmelke of Nikolsburg. He wrote Orach L'Chaim (Torah) and Pri Chaim (Avos).
27 Teves - R' Shamshon Raphael Hirsch (1888) (Shimshon ben Raphael)
27 Teves - R' Menashe Yitzchak Meir (1971) ben Asher Yeshaya Eichenstein of Zidichov-Petach Tikvah
27 Teves - R' Pinchos (1998) ben R' Chaim Hirschsprung of Montreal
28 Teves - R' Avrohom Antebi (1858) of Aram Soba, Syria, author of Yoshev Ahalim
29 Teves - R' Yerachmiel Yisroel Yitzchak (1910) ben Yechiel Danziger of Alexander, author of Yismach Yisrael.
He was agreat gaon in all areas of Torah, yet know to be extreemly modest. Unfortunately, he left over no descendants.
29 Teves - R' Nosson Adler of London (1890) ben R' Mordechai, author of Nesina Leger
29 Teves - R' Moshe Yehoshua Yehudah Leib (1898) ben Binyomin Diskin, best know as the Maharil Diskin. He was the Rav of Brisk and Jerusalem.
29 Teves - R' Meir (1989) ben Benzion HaLevi Chodosh was the Rosh Yeshiva of Yeshivas Chevron
29 Teves - R' Yitzchok Kaduri (2006) ben R' Zev (I believe his mother's name, Tafcha or Tapcha, is on the matzeiva) The elder mekubal of his time. He was well over 100 years old when he passed away. He merited getting a brocha from the Ben Ish Chai in his youth.
29 Teves - R' Refoel Shmuel Berenbaum (2008) Rosh Yeshiva of Mir in Brooklyn. Learnt in Mir before the war and escaped to Shanghai. He was know not to waste a moment from learning Torah.
Thu, 19 January 2017 21 Teves 5777